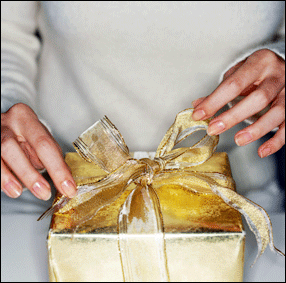 it's not one I received; it's one I gave: one of the things I did for my immediate family this year was to make them little coupon books, one for every month of the year, so this is literally the gift that gives all year long!

for the kids, there are 3 different coupons that rotate through each quarter:
special activity at home w/me (playing a game, making a treat or craft, etc.)
special dinner of your choice (needs 3 days advance notice so I can make sure I have ingredients on hand), and
special outing w/me (feeding the ducks, going to an indoor play place, etc.)
to keep from feeling overwhelmed, the kids' coupons are all different for any given month: one has the activity at home, another has the dinner, and the other has the outing; next month they all rotate (the double-rotation wasn't all that tricky to manage)
Larry's coupons are quite different from the kids', but they're meaningful to him and there are still 3 of them that rotate through each qtr:
a whine-free chick flick (I will rarely — if ever — voluntarily watch a chick flick, and when I do get wrangled into watching one, I kvetch about it almost incessantly; I'd rather have root canal than watch sappy "girl" movies, ICK )
a red meat dinner (again, needs 3 days advance notice so I can make sure I have ingredients on hand), and
a romantic surprise (I timed these to fall in different months from Valentine's Day or our anniversary)
I'm very happy to see how excited my family are (esp the kids!) to have these coupons to use — so far we have yet to get past the 1st week of the month before the kids have decided how they want to use their coupon for that month!
it was a fun challenge for me to come up w/things I thought my family would enjoy and make these gifts all about them, whether it's spending time w/them or doing something special for them (or both!)… it's very easy to adapt this idea to any other gift-giving ocassion, from birthdays and anniversaries to holidays, so I'm sure my family will see these again in future…